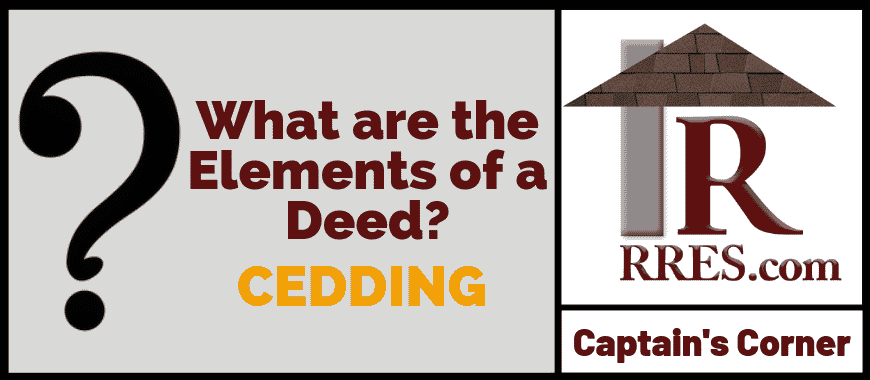 What are the Elements of a Deed?
The formats of deeds may differ, as long as the intent to convey title is clearly expressed. Certain elements must be present in a deed to spell out clearly the necessary intent and the property to which it applies.
Remember "CEDDING" for the Elements of a Deed
It may be difficult to remember all of the elements of a deed. There are, however, ways to remember them easily. For instance, CEDDING.
Consideration (valuable or good)
Execution (signed by a competent grantor and two witnesses)
Description of property
Delivery and acceptance (voluntary)
Interest or estate being conveyed (habendum clause)
Names of a grantee and grantor
Granting and other appropriate clauses
Rowlett Real Estate School is a family-owned and operated, FREC-approved, fully-accredited Florida real estate school based in the Panhandle of Florida. We specialize in educating and assisting students with all aspects of obtaining/maintaining their Florida real estate license. Providing excellent customer service is our top priority. Above all, we understand the importance of making ourselves available to our students. As a result, you may reach our instructors during regular business hours. Likewise, our knowledgeable staff is available after hours, weekends, and holidays.