Why Do I Need The Exam Prep Videos For Sales Associates?
Our pre-license course was developed with you and your goals in mind—to pass the state exam on your first attempt. The state exam is not easy and it will take hard work to pass. The good news is that this material has proven to assist our students in preparing for and passing the state exam. When you feel like you need more, Exam Prep Videos is one of the best tools available to build your knowledge and lift your confidence to take the state exam. In some cases, students take a long time to complete their course, and they forget what they learned. It is critical to your success to brush up on the important points for the Florida State Exam. It is very important to take the state exam within a few days of completing this prep course.
Your retention of the material drops dramatically after just a few days. You should not take this prep course before successfully completing your Sales Associate Pre-License course. Before you can schedule to take the state exam, you must submit an application and get approved by the state of Florida. If you have not yet submitted your completed application packet and fingerprints to the state, please do so immediately! We highly recommend the Exam Prep Videos for Sales Associates. It is up-to-date and simulates questions that you will see on your state exam.
Can The Math Made Easy Videos be Downloaded?
The Math Made Easy Videos are not downloadable and can only be accessed online through our website. You can access them on most any device that you can get the internet on but you will have to have an internet connection. The login is at the top of our website and says "Student Dashboard".
How Many Times Can I Take The State Exam?
You can take the Florida State Exam as many times as you want up until your approval from the state expires. Your approval, like your course completion certificate, is good for two years. If you fail the state exam, you cannot reschedule to retake it on the same day.
What can I do if I fail the State Exam?
If you fail the state exam, the best thing to do is call Pearson Vue and schedule a review of what you missed. You have to pay a fee of around $60, but it is worth it. You will set up an appointment time and they will give you one hour to study for your exam and everything you missed. This is some of the best advice you can take advantage of. In most cases, you will see some of the very same questions that you had on your first exam.
Easing Test Anxiety
All students, even the best ones, experience anxiety about taking exams. Surprisingly, test experts indicate that a little dose of test anxiety is healthy—it can keep the student focused and sharp. However, too much test anxiety will have a debilitating effect on test performance. So, what should real estate students do? First, they must refine their test-taking skills; second, they must review the material that is likely to be test-worthy. Students who prepare for the state exam will be more confident and experience less anxiety. See our Test Taking Tips & Strategies Video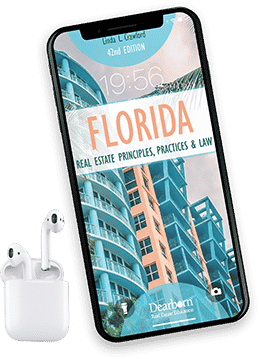 Florida Sales Associate Prelicensing Key Point Review Audio MP3
Available in MP3 format, this real estate exam prep title provides over two hours of enhanced hands-free review covering the key points of Florida Real Estate Principles, Practices, & Law. The narrator emphasizes key terms, presents concepts, and references the text, reinforcing classroom lessons and preparing you for the licensing exam. Searchable tracks allow you to go directly to specific unit topics. It is required that you download the MP3 files to a computer before transferring them to a tablet or listening device.
Specific Info related to MP3 products: Download Instructions You must first download the zip file of MP3 tracks to your computer. The individual tracks need to be extracted from the zip file and saved to your computer before being transferred to your tablet or listening device. You may also listen to the tracks directly on your computer.