Post Broker Management & Investment Online Course
The 30 hour post broker management and 30 hour post broker investment course contains everything you need to complete it including the final course exam. If you want to order the textbook as a reference, you will have the opportunity to add the textbook to your order before you check out. The textbook is optional and not necessary to complete the course.
A Management Guide, 30-Hour Broker Post-Licensing
Online Course
This online post-licensing course is based on the Real Estate Brokerage: A Management Guide textbook. It covers Florida-specific content about business entities, real estate office requirements, license renewal, advertising, broker escrow accounts and records, brokerage relationships, and more.
You will learn to become a more effective manager, leader, and communicator in today's constantly changing business climate while fulfilling your licensing requirements.
Florida Essentials of Real Estate Investment
Online Course
This course is based on the popular Essentials of Real Estate Investment, course book. Coverage explores investment trends, tax laws, tax liens, regulations, market conditions, Florida-specific land laws, and more.
The course includes special features to help you retain the information covered, including key terms, unit summaries, case studies, quizzes, interactive exercises, and unit exams. In addition, links to external resources provide additional information that may be useful.
60 Hr. Post Broker Investment & Management Package
Online Course
Newly licensed Brokers are required to complete 60 hours of post broker education which consist of 30 hours of Broker Investment and 30 hours of Broker Management. This package meets that requirement with two 30-hour online courses
30-hour Broker Post-License Investment Course
30-hour Broker Post-License Management Course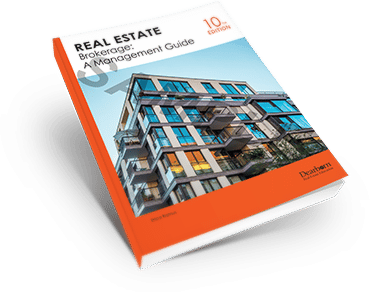 Real Estate Brokerage: A Management Guide 10th Edition
Textbook $65.00 BUY NOW
eBook $65.00 BUY NOW

The most comprehensive real estate brokerage title available offers an applications-oriented approach to becoming more effective managers, leaders, and communicators. This latest edition reflects innovation, which is most apparent in digital media and all the associated tactics and risks (including Internet security and identity theft), as well as the influence of generational diversity in contemporary business practices.
This practical guide also highlights new trends in professional development, including formal mentoring and cross-training programs, and developments in civil procedures, including RESPA, antitrust, and employment law issues. When used with the workbook for additional review, the package is a complete "how-to" for starting and maintaining a real estate brokerage business.
This is an optional course book.