Sales Associate Course Books
Florida Real Estate Sales Associate Pre-License Course Textbook
Textbook $52.00 BUY NOW
This is the newest edition textbook for our classroom and online 63 hour pre-licensing course. This textbook follows the new Florida Real Estate Commission course syllabus that was just released. The material in this textbook has the most current up-to-date information to help you pass your Florida State Exam and is approved by the DBPR.
Florida Real Estate Exam Prep Manual for Sales Associates
Textbook $30.00 BUY NOW
Our Florida real estate exam manual for sales associates will prepare you to pass your state exam. Absolute key facts and important points are covered in each section along with a quiz after each section to test your knowledge. You will also be able to familiarize yourself with the key terms used in real estate along with need-to-know math formulas and a 100-question practice exam at the end. This exam manual follows the state syllabus for the state exam and is one of our most popular additions to the course.
Florida Real Estate Post-licensing for Sales Associates Course Textbook
Textbook $48.00 BUY NOW
This is the Post 45 Hour textbook that goes along with the course. This edition provides a step-by-step guide to conducting real estate business for new Florida licensees. It also includes tips for prospecting all the way through conducting a close.
Florida Real Estate Continuing Education Course Textbook
Textbook $24.00 BUY NOW
This is the Continuing Education Course Book you need to meet the 14 hr. education requirements for both Sales Associates and Brokers. A 30 question open book exam is included for you to fill out and fax or email back to us to grade. Your credits will be promptly reported the the DBPR and you will receive a course completion certificate.
Florida Real Estate Broker's Guide 8th Edition
Textbook $92.00 BUY NOW
eBook $92.00 BUY NOW
Florida Real Estate Brokers Guide is your complete source for broker pre license education. This new edition course book provides you with the latest information and builds on the knowledge you've gained during your career.
Essentials of Real Estate Investment 12th Edition
Textbook $60.00 BUY NOW
Essentials of Real Estate Investment examines the current real estate market and describes investment methods, needs, and opportunities. It educates students and professionals on the basics of investing in real estate and can help consumers make better choices when it comes to investing their money in real property. Case studies provide real-life application and help reinforce key concepts.
Real Estate Brokerage: A Management Guide 10th Edition
Textbook $65.00 BUY NOW
eBook $65.00 BUY NOW

The most comprehensive real estate brokerage title available offers an applications-oriented approach to becoming more effective managers, leaders, and communicators. This latest edition reflects innovation, which is most apparent in digital media and all the associated tactics and risks (including Internet security and identity theft), as well as the influence of generational diversity in contemporary business practices.
This practical guide also highlights new trends in professional development, including formal mentoring and cross-training programs, and developments in civil procedures, including RESPA, antitrust, and employment law issues. When used with the workbook for additional review, the package is a complete "how-to" for starting and maintaining a real estate brokerage business.
Mastering Real Estate Math 8th Edition Update
Textbook $42.00 BUY NOW
eBook $42.00 BUY NOW

Overcome your math anxiety! This comprehensive workbook improves math skills and prepares you for actual real estate practice. Multiple in-chapter and additional practice problems, along with real world exercises, provide plenty of practice in each area. This text provides you with step-by-step instructions simplify even the most complex calculations, from prorations and investment analysis to property tax and lease calculations.
Course Books
All our Florida real estate course books are the highest quality and latest edition available. Buying the matching textbook with your online course is one of the smartest decisions you can make. Not only does it give you the flexibility to study away from the computer, having the textbook allows you to follow along with the course and highlight or tab as you go some of the important points you want to remember. Your course book can even be used during your final course exam if you choose. Textbooks are furnished in the classroom. Even after you become a licensed Florida real estate agent, your textbook comes in handy to refer back to.
Some students prefer the eBook in place of the textbook even though Ebooks can only be accessed online and cannot be downloaded. To access to your ebook, you must go online through vitalsource. Your ebook can be accessed for one year from the date of purchase. If you like the idea of being able to study and read the textbook online, the ebook is compatible on your tablet or smartphone as well as long as you have a good internet connection.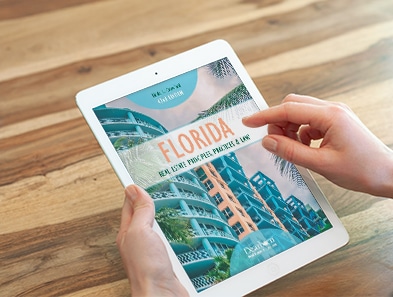 eBooks
eBooks are provided through VitalSource®. To begin, log in or create an account with your email address and password. This only takes a few moments.
After logging in:
Click on Redeem in the top right corner of the navigation menu
Enter the eBook redemption code(s)
For online answers to common technical support issues, VitalSource® has a searchable Knowledge Base.
If you require further assistance, visit VitalSource® Technical Support or contact the VitalSource® Service and Support line at 1.855.200.4146. They will connect you with a VitalSource® Bookshelf expert. The U.S.-based support center is open 24/7 to accommodate your schedule.
Professional Development Books
Professional Development is the key to extending your knowledge and skills to better serve you in your real estate career. People who embark on a career in real estate come from all over. There are those who decide early and come straight from high school and others who wait later in life and change career paths. Most people are use to working with a boss and having a set of strict rules and guidelines to follow. The real estate business may be their first time working independently. In many cases, some are not as prepared as others to thrive on their own.
With the proper Professional Development tools, you can change your future. There is always room for improvement and you are never to old to learn. Rowlett Real Estate School has the tools you need to succeed. Feel free to give us a call. We will be happy to point some of our best personal development courses and material. Personal development courses are also available.
Once you get your license you will want to sharpen your skills. Browse through our REcampus Online Book Store.